How to Be the Cool Theater Teacher When Broadway Re-opens
Every teacher wants to be popular. Personally,  I think it's an unfulfilled desire from our high school days when maybe we weren't the coolest and our pick of friends, though loyal, wasn't exactly a large number.
Today, I'm going to talk about how to be the cool teacher….at least for a day or two.
People ask what is my favorite musical. This is a difficult question to answer, because I love many.
If I have to pick one for today, I'll say Hadestown. (Tomorrow it will probably be something else.)
This is a glorious show filled with everything which makes a great one– memorable music, tremendous lyrics, terrific plot and unique message.
All About Hadestown
If you don't know much about Hadestown, here is a quick synopsis from Broadway.com:
Hadestown intertwines two mythic tales—that of young dreamers Orpheus and Eurydice, and that of King Hades and his wife Persephone—as it invites you on a hell-raising journey to the underworld and back. Mitchell's beguiling melodies and Chavkin's poetic imagination pit industry against nature, doubt against faith, and fear against love. Performed by a vibrant ensemble of actors, dancers and singers, Hadestown is a haunting and hopeful theatrical experience that grabs you and never lets go.
Hadestown is a 2016 stage musical adaptation of the 2010 folk opera concept album by Anais Mitchell.  As in the 2010 album, Hadestown adapts the myth of Orpheus and Eurydice to a Great Depression-era inspired post-apocalyptic setting.
One of the production's messages defends beauty and the importance of music and love to the soul, even in an increasingly commercialized world.
I can't count how many times someone has suggested a song which makes them feel better (especially in light of the pandemic.)  Music speaks to people. I don't know about you, but I couldn't live without music in my life.  See what I mean in my post, How Enriched is Life Without Music?
How to Be the Cool Theater Teacher When Broadway Re-opens
What is the origin of Hadestown?
Scrolling around the internet, I found this post from Vulture, "To use the appropriate organic metaphors, Hadestown started as a seed with a community-theater project that Mitchell, a songwriter, first performed in Vermont in 2006. That grew into a concept album in 2010, which she recorded along with folk musicians like Bon Iver's Justin Vernon. By 2013, Mitchell started working with Chavkin — who had been directing The Great Comet Off Broadway — to plant Hadestown back onstage.
They took it to New York Theatre Workshop in 2016 and then to Edmonton's Citadel Theatre and London's National Theatre before returning to Broadway, where the show began performances on March 22. Along the way they experimented with everything from the set design, to the size of the cast, to their way of thinking about the main characters' roles in the story."
How to Be the Cool Theater Teacher When Broadway Re-opens
 Hades and Persephone
Two mythological tales were combined to create the plot of Hadestown.  It's important to understand the two myths separately in order to appreciate them being woven together for this musical.
Hades is the Ancient Greek god of the Underworld, the place where human souls go after death. In time, his name became synonymous with his realm. It has to be said unsurprisingly – since he barely left it. Appropriately, the most significant myth related to Hades concerns one of the very few times he did – to abduct Demeter's daughter, Persephone.
As the ruler of the dead, Hades was a grim and ghastly figure, inspiring awe and terror in everybody. Consequently, he was rarely depicted in art. When he was, he was most commonly portrayed with a beard, and a solemn, mournful look. He frequently wears a helmet, named the Helm of Darkness or the Cap of Invisibility. Cerberus, the three-headed dog which guarded the entrance to the Underworld, is usually beside him. Every so often he carries a scepter or holds the key to his kingdom. At a later stage, he became associated with his weapon of choice, the bident, a two-pronged fork modeled after Poseidon's trident.
How to Be the Cool Theater Teacher When Broadway Re-opens
Persephone, the daughter of Demeter and Zeus, became the wife of Hades and the Queen of the Underworld. She was a dual deity, since, in addition to presiding over the dead with intriguing autonomy, as the daughter of Demeter, she was also a goddess of fertility. The myth of her abduction by Hades was frequently used to explain the cycle of the seasons.
Who Wrote Hadestown? 
Anaïs Mitchell is an American singer-songwriter, musician, and playwright. Mitchell has released seven albums, including Hadestown (2010), Young Man in America (2012), and Child Ballads (2013). She developed Hadestown (together with director Rachel Chavkin) into a stage show which received its US debut at New York Theatre Workshop in summer 2016, and its Canadian debut at the Citadel Theatre, Edmonton the following year. In 2018 it was announced that the show would open at London's National Theatre later in the year before transferring to Broadway.
Hadestown began as a DIY community theater project in Vermont in 2006. In 2013 Anais began the process of expanding and adapting the work into a full-length professional theatrical production. She worked closely with director Rachel Chavkin.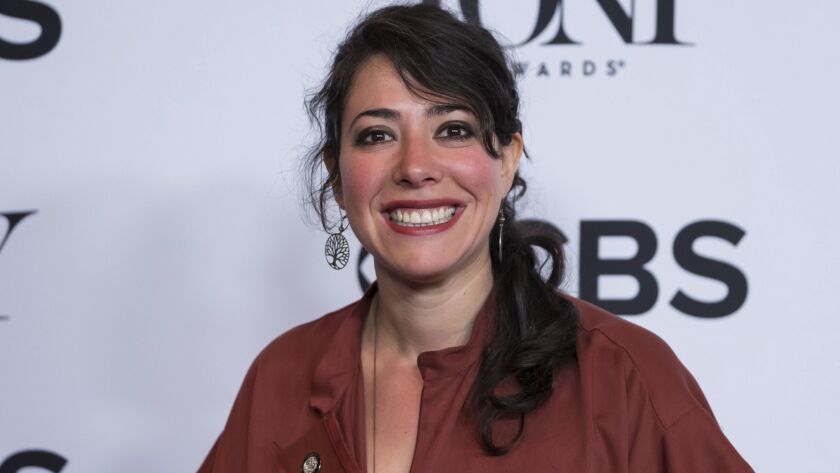 Who directed Hadestown?
Director Rachel Chavkin  (has a BFA from New York University's Tisch School of the Arts and an MFA from Columbia University School of the Arts (2008). Chavkin directed Dave Malloy's Natasha, Pierre & The Great Comet of 1812, which ran Off-Broadway in 2013-2014. Natasha, Pierre & The Great Comet of 1812 received the 2013 Obie Award, Special Citation. Under her direction, the musical opened on Broadway at the Imperial Theatre on November 14, 2016.
At the 71st Tony Awards, the musical received twelve nominations, the highest number for the 2016-17 season, including a nomination for Chavkin for Best Director of a Musical.
How to Be the Cool Theater Teacher When Broadway Re-opens
In an article in American Theatre, it was noted that she has a "diverse slate of work" united with "a distinctively multisensory sensibility…. When she staged Meg Miroshnik's The Fairytale Lives of Russian Girls at Yale Repertory Theatre, she included a live female punk band; her work with the TEAM routinely blends text, video, and pervasive sound design. 'She can squeeze a lot into a small space, and yet it feels epic and sprawling,' said Ars Nova artistic director Jason Eagan.
I'm Here to Help You! 
In case you aren't aware, I create drama education and resources. I have a unit for Hadestown which you might appreciate.
This Product includes:
Letter to Teacher
Warm Up–MY Version of a Popular Physical Warm Up
Teacher's Script–What I Say and How I Say it! (No need to worry about what to say)
Photos of the Statues of Greek Gods or Persephone & Hades
Paintings of the Statues of Greek Gods of Eurydice & Orpheus
Plot of the Musical
Synopsis of the Musical
A Brief Description of the Four Mythological Characters to Help Your Students Understand the Musical More Fully
Separate File of Photos for Teacher's Use in Lecture
History about the Origination of the Production
Information on the Director, Rachel Chavkin
Information on the composer, Anais Mitchell
Information about the music arranger and orchestrator, Michael Chorney
A Shortened Lesson on: What are the Tony Awards?
List of Tony Awards
New York City Map Link with Competing Theaters Labeled
Student Note Page
Teacher Note Page Key
Trivia about Broadway Musicals with Some Surprising Facts!
Partial lyrics from "Why We Build a Wall"–Good for Class Discussions or as a Jumping Off Point
Extension Activities–Terrific Suggestions of Ways to Secure the Learning and Enrich the Experience, Individual and Group
Sources & Hot Links to Video Clips from the Show!
If this sounds interesting to you, check out my store at Dramamommaspeaks to learn more about the unit.
How to Be the Cool Theater Teacher When Broadway Re-opens
I've found most students are familiar with the music from a musical and the plot. However they never have an opportunity to learn about its origin, trivia and creative team.  I create units the way I would use them.
Want to impress your students?  Hadestown reopens on Broadway on September 2.  Your students will be impressed that you keep up with the hubbub of Broadway by teaching Hadestown.
When Broadway reopens its doors, there is going to be so much excitement we will hear the cheers in every theater classroom in the country, much less the world. What a fabulous image and sound that will be!
What musical is your favorite (at least today)? I'd love to hear about it.  Contact me at DhcBaldwin@gmail.com or DeborahBaldwin.net.
Want some free lessons?  Check out: Free Stuff! (Check this often because I add lessons as I have time to do so.)